Why Parents Love Lakeshore
At Lakeshore Montessori . . .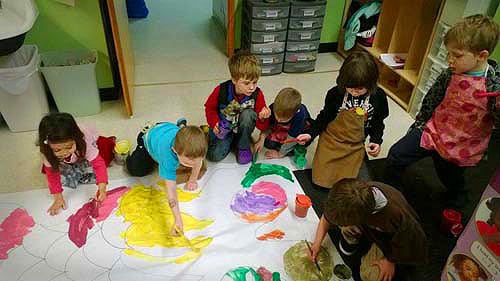 We offer an exceptional
Montessori
program for children from ages 2½ through 6, including optional aftercare and summer school. Established in 2006, Lakeshore Montessori Vancouver Preschool & Kindergarten is located just minutes from Downtown Vancouver.
Montessori is an approach to education that maximizes each child's individual drives and strengths, using materials that stimulate self-teaching. The carefully arranged traditional Montessori classroom allows children to self-select from lessons and exercises in the areas of practical life, sensorial education, mathematics, language arts, geography, botany, zoology, geography, music and art. In addition, at Lakeshore we focus each term on the cultures and ecological systems of a different continent. We also learn languages that go with each continent. At any given time, we may be learning Spanish, Japanese or Swahili! We regularly invite local artists and scientists to share with the students, enhancing their connection to both the local community and to the world. Alongside the esteemed Montessori preschool & kindergarten curriculum, the children also spend a lot of time outdoors, playing, digging, exploring, riding bikes, and helping care for the school garden. Our weekly Orff certified music teacher brings a wealth of instrumental and classical music instruction to our Montessori preschool & kindergarten, while optional after school soccer is offered onsite through the much loved Soccer Shots program. The school's director, Miss Katrina, is AMI certified and has a Masters degree in Education. She makes it her mission to ensure that every child who is ready becomes a reader before finishing preschool – which means that almost every Lakeshore student learns to read before they reach Kindergarten age!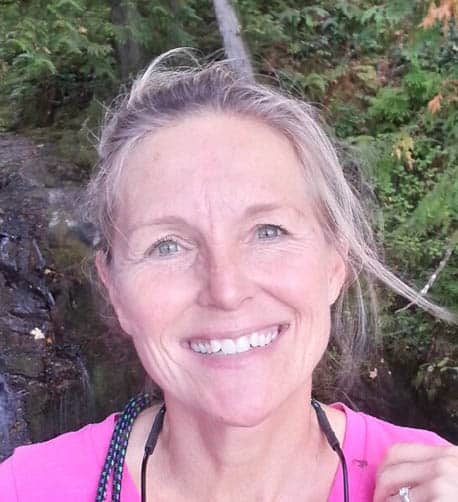 Director and Head Teacher Katrina Woermann,M.Ed. is AMI certified and has over 30 years of Montessori experience (Ages 0 – 18).
About Miss Katrina "I am an artist, mother, and outdoor enthusiast. My children are 21, 19, 15, and 13. I just retired my horse at 26 years and spend winters on Mt. Hood boarding and skiing. Summers are full of white water, wilderness, and the ocean. I bring my excitement for life and learning to children year after year. One of the things I like most about Montessori is that it allows me to establish relationships with children and their parents that are forever in my heart."
Testimonials
Lakeshore is the Best

My twins are currently thriving here. We have been in both classrooms: starting downstairs and now upstairs. In our experiences all of the teachers have been patient, attentive and fun. I can tell my children's attendance here has promoted their confidence/independence as well as nurtured their curiosity and thirst for learning and understanding of the world around them.

Balancing Structure with Independence

Ms. Katrina has a true talent working with preschoolers to go along with her Masters in AMI. We did an extensive search of quality early childhood education programs before choosing Lakeshore Montessori. The school offers everything our family values: academic rigor, cultural exploration, outdoor play, the most wonderful creative art projects (a kiln fired bird feeder for Mother's Day!), and music literacy. The school also reinforces manners, grace, courtesy and independent life skills as part of its curricula. Our daughters are well-ahead both academically and socially (in a good way!) having been students at Lakeshore Montessori.

The school does a great job of balancing structure with independence. And my children and family have developed lovely friendships with other likeminded families within the Lakeshore Montessori community.

We are so grateful we found this little gem. Being from NYC and having had the blessing of attending the finest early childhood programs in the country, I was determined to find the very best this area had to offer for our son. We finally found what we were looking for at Lakeshore. Every Montessori classroom is different and Lakeshore provided what was, to us, the perfect combination of all worlds : the famous, time-tested Montessori academics; creative and imaginative activities from Katrina's artist's background; fundamental extras like music, soccer, and exposure to languages; and, ample outside play time and a school garden. Katrina has a graduate degree in Education, which was another important factor to us. The school she has created is vibrant, caring, and joyful. Our son's skills have exploded in all directions – reading, writing, math, foreign languages, and social. We only wish we had found Lakeshore sooner!

A Special Place

I recommend Lakeshore Montessori to anyone looking for high quality preschool in a caring, supportive environment. My son has attended for the last year and we have been extremely impressed by the curriculum and approach to learning – they have a multi-cultural classroom where he learns appreciation for other cultures, "jobs" that provide opportunities for exploration and independence, and, at 3 years old, he is excelling in beginning level reading, writing, and math. Katrina (the owner and teacher) provides individual attention to each child and provides the perfect balance of structure and freedom in the classroom. Having experienced other childcare and preschool arrangements, the thing that makes me happiest about Lakeshore is the love Katrina and the other teachers show my son. You can tell when people love what they do and truly care about each child, and that is the situation at Lakeshore. My son considers his teachers as his best friends, so you know it is a special place and I highly recommend it for other parents!

Wow! I could not be more impressed with the environment and opportunities for learning available at this great school. The teachers are amazing facilitators of creativity, curiosity, life skills, and true learning who genuinely love the children. Both of our children were reading very well at the age of 4! They always looked forward to school each day. The variety of learning strategies, activities, and the breadth of topics taught is fantastic. I could not have asked for a better environment and teachers to entrust my children with, for five years of our family's life. The foundation of reading, mathematics, love of learning, and life skills they promote, is the best I've seen. I strongly encourage other families to enroll their Pre-Schooler or Kindergartner at Lakeshore Montessori School. You will never regret it! I genuinely thank the great teachers for EVERYTHING they do and for how they've blessed our children's lives forever.
Admissions Now Open
Lakeshore Montessori Vancouver Preschool and Kindergarten classes are currently full but we are still accepting a limited number of reservations for the 2018-2019 school year.  The first step towards enrollment is to schedule a classroom observation by Contacting us today!